A. Borodin: No comment needed here.
As head of VTB, Andrey Kostin is linked to a network of offshore companies owning Russian and European real estate, as well as other assets worth over 100 million dollars
Andrey Kostin, the head of state-controlled VTB Bank, is far from poor. He disclosed his earnings for the first time back in 2014, declaring to German journalists that he had earned RUB 240 million. At the time Kostin rebutted categorically USD 37 million in earnings attributed to him by Forbes, calling this figure "utter nonsense".
It transpires that the state banker's statement was true: the figure of 37 million is nothing compared to assets worth a hundred million. "Important Stories" is publishing an investigation conducted by the Organized Crime and Corruption Reporting Project (OCCRP) on the link between the head of VTB and offshore firms owning Russian and foreign property worth more than USD 100 million. The substantial list of assets includes everything: from houses and luxury flats to investment companies and even an expensive hotel in Austria. The property empire was controlled through an offshore network managed by Kostin's front man – Eric Whyte, the son of a famous Canadian communist.
Greetings from a communist
Canadian citizen Eric Whyte is mentioned in the Pandora Papers — records from major registrars of offshore companies throughout the world leaked to OOCRP's journalists and the International Consortium of Investigative Journalists (ICIJ) in 2021.In the documents Whyte is indicated as the beneficial owner of companies created in the British Virgin Islands. In turn, they owned firms primarily in Cyprus which owned elite real estate in Russia and Europe. And this network was used, inter alia, on behalf of VTB Head Andrey Kostin. One of his acquaintances confirmed to Important Stories that Eric Whyte was Kostin's front man when it came to the management and ownership of the properties.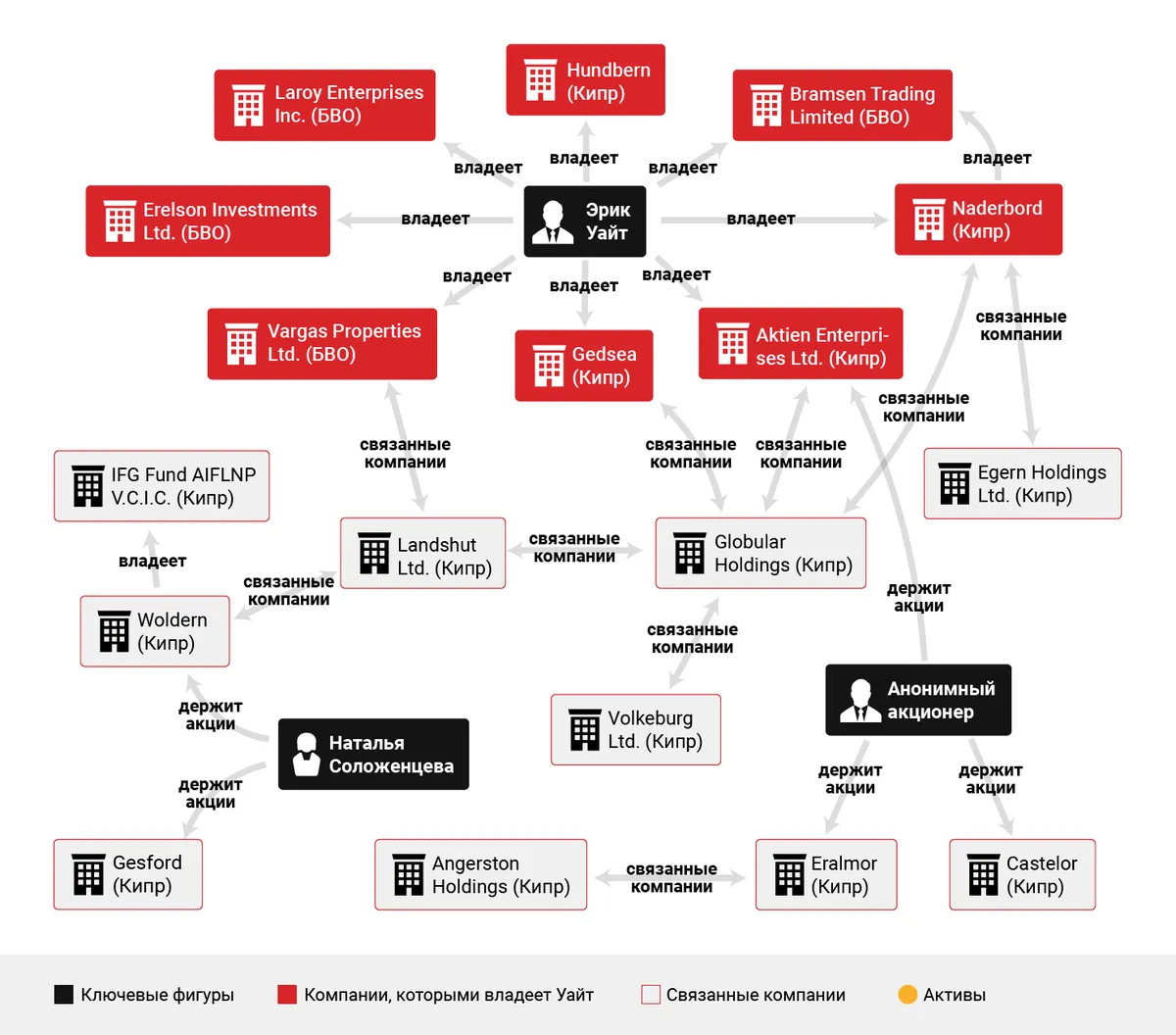 Network of companies linked to Eric Whyte
The son of Canadian communist Bert Whyte, Eric moved to the Soviet Union while still a kid in 1996 and was educated at a boarding school for the children of foreign communist leaders Interdom. These are virtually all the scarce details on his life available in the public domain. The memoirs of Whyte's late father only mention his birth in passing. After graduating from school in 1973, Whyte Younger stayed in Russia to study history at Moscow State University. Then he left for Canada and focused on business.
Eric Whyte is someone who keeps out of the public eye. Most of the personal information about him is linked to Interdom. To all intent and purposes, his studies at this boarding school have had a significant impact on his whole life. The school's website includes an interview with Whyte from 2010 where he talked a little about himself.
"My father was the correspondent of a Canadian communist newspaper accredited in Moscow. At present I do business in Russia and Cyprus. <…> I believe that any country aspiring to be a global power must have an international school where children come to study from all over the world. <…> No political motive is required, which had been the case in Soviet times. <…> The school could admit children from disaster zones who subsequently move all over the world after growing up in Russia, as was the case with our Interdom. These people will view Russia as their second home. They won't tolerate any falsehood about this country <…> they will always maintain a warm relationship with this country, they will have an influence in society, speaking out in favour of the country where they grew up.
This should appeal to the government for the sake of future mutual relations with many countries. Here you can get a good education in Russia. On return to their own countries, these people land good positions at leading state institutions, become influential and have influential friends. Do you get the point?"
Whyte became a Cypriot citizen in 2015, buying a luxury villa not far from Limassol, on the southern coast of the island under the programme granting citizenship in exchange for investments.. The wall on the villa's gates has an amusing inscription "The Whyte House", which sounds like the White House — the official residence of the President of the United States of America.
Gates of Eric Whyte's villa
Whyte's Cypriot property is located next door to a house owned by Vladimir Popov, deputy head of RCB Cyprus, a former VTB subsidiary bank in Cyprus. It is well known that senior management of the bank unexpectedly acquired a significant stake in RCB. At the time sources lined to VTB said that this Cypriot bank had in actual fact parted ways with state-owned VTB and ended up in the hands of Kostin's people. It transpired that certain companies linked to Andrey Kostin from the offshore network managed by Whyte had received million dollar loans from RCB Cyprus.
After studying the materials collected by OCCRP, Tamara Makarenko, expert in the business intelligence sector who has significant experience of investigating oligarchs, states: "Whyte could have been acting as a proxy for Kostin." She notes that she drew this conclusion from the ownership structure. Moreover oligarchs have used similar schemes to conceal their assets.
Kostin had reasons to be concerned about the property that he had accumulated over many years of working as a state banker: he has been on US and European sanctions lists for a long time and risks losing his foreign assets if they are discovered by the European or American authorities.
Winery
In Soviet year some members of the ruling elite had summer houses in the sun-drenched coastal city of Foros on the Crimean Peninsula. After Russia annexed Crimea in 2014, the Russian elite moved in. This is when it was rumoured for the first time that Andrey Kostin had bought a luxury villa in Foros, together with a winery in the Alma river Valley.
According to the magazine Meinenger's Wine Business International in 2015: "Winery executives won't reveal who it belongs to, although the Russian media have speculated that it is the president of one of Russia's most powerful banks." The article mentioned that Vladimir Putin had personally planted the grape vine in Alma.
Even though the link between Kostin and this property had not been proved definitively, the European Union cited his ownership of the estate and winery when imposing sanctions in
2014 on him, declaring that Kostin had supported "actions and policies which undermine Ukraine's territorial integrity" and had derived benefits from the annexation.

It transpired that Eric Whyte had owned the vineyard and the estate for years. Whyte's offshore firm Vargas Properties controlled the Russian company owning both the house and the winery. In March this year, shortly after Russia's invasion of Ukraine sparked another round of sanctions against famous Russians (including Kostin), the title to the real estate was transferred to a Russian company, whose owner has not been disclosed.
Flat and residency
The winery is not the only example of Whyte's ownership of assets linked to Kostin. For example, Whyte owns firms in the British Virgin Islands used to swap expensive Moscow real estate owned by Kostin and his girlfriend.
The Anti-Corruption Foundation of Russian opposition politician Alexey Navalny disclosed how two luxury flats had been transferred to Kostin's girlfriend TV presenter Nailya Asker-Zade. One flat was assigned to her by a VTB top manager, while the state bank gave her the other one. However, there was an intermediary in the transfer of the flat from VTB to Kostin's girlfriend. The year before Asker-Zade received the flat, the real estate had been transferred to an offshore company registered in the British Virgin Islands, Erelson Investments.

It turns out that Eric Whyte owned this company. Furthermore, another of his offshore firms acted as intermediary during the transfer of the Moscow residence from VTB to Kostin himself. The state bank transferred the title to a luxury three-storey townhouse in Moscow to Whyte's Laroy Enterprises in 2006. In October 2015 it transferred the property to Kostin. In 2016 he sold the townhouse to Angerston Holdings in Cyprus. Incidentally, Angerston received a loan for USD 7 million for this transaction from RCB Cyprus which had previously been a VTB bank in Cyprus. As we already pointed out, shortly afterwards the Cypriot bank was spun off from state-owned VTB and ended up with people close to Kostin.

Anna Stylianou, a Cypriot anti-money laundering expert, disclosed to the OCCRP that a number of rich Russians had transferred their real estate to Cypriot companies prior to the tightening of the rules in 2018, as this move guaranteed their anonymity and enabled them to engage in tax evasion.
The expert explained: "Rental income from a property could be presented as dividend income in Cyprus, and thus non-taxable." Cyprus was also popular from this perspective as it did not have a publicly available database of ultimate beneficiaries until last month. Stylianou concluded: "So it was easy to hide Russian ownership."
Austrian Hotel
The luxury hotel Tannenhof in the elite Austrian ski resort of Saint Anton am Arlberg located in the Alps, consists of seven deluxe rooms, with the most expensive costing approximately USD 6,000 per night. A British travel journalist made the following comment, noting that staying there "is as if your closest billionaire friend decided to create a fabulously luxurious and yet personal Alpine retreat" <…>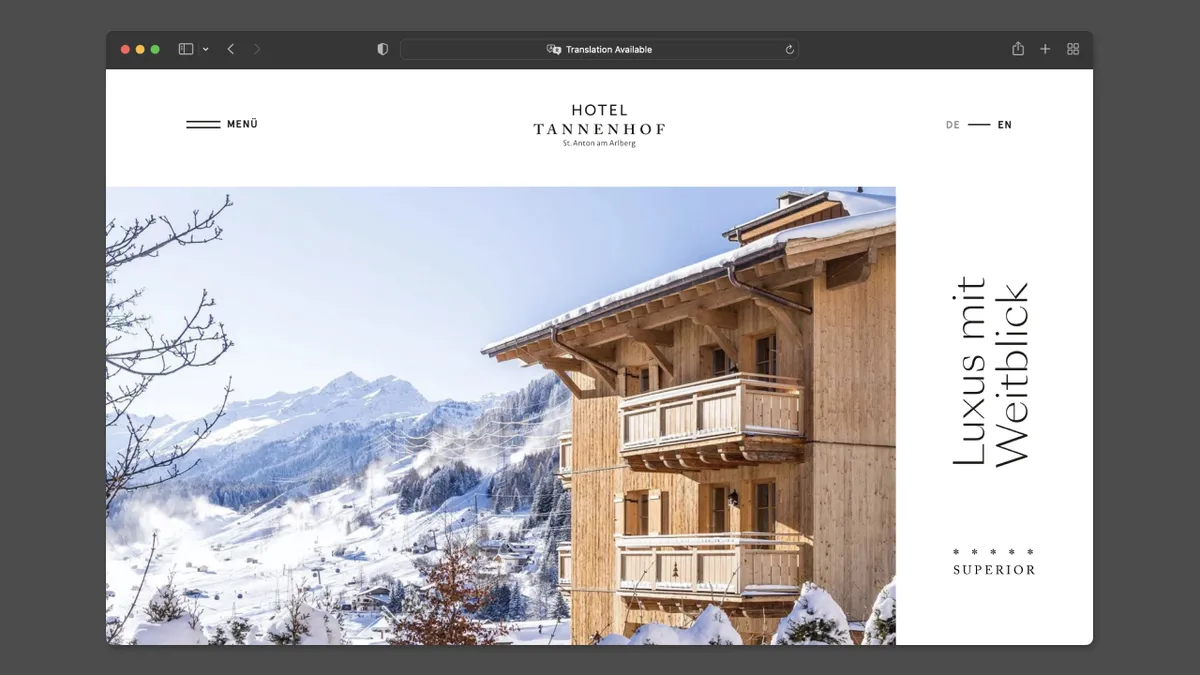 According to numerous media reports, Hotel Tannenhof is owned and managed by the couple Axel Bach and Judith Folker, According to the media, they fully rebuilt the hotel in 2011. In an interview in 2017 Bach said that an unexpected inheritance had helped him to "realise his own philosophy" of hospitality, implying that he had used the unexpected windfall to buy the hotel. He noted: "The notary was searching for me for one and a half years, and asked me what I would now do with all the money!"
According to another article published that year, Bach and his wife sold an estate in Italy to buy the hotel. The hotel's former chef James Baron says that the staff had also been told that Bach and Volker owned the property.
However, Austrian and Cypriot corporate reports indicate that in the period from 2010 to 2015, Hotel Tannenhof was owned by a Cypriot vehicle controlled by VTB. They did not disclose whether the bank had created this vehicle on behalf of a specific client.

The United States and the European Union imposed sanctions on VTB in 2014. The following year the ownership structure of Hotel Tannenhof changed. Before the sanctions, the hotel had been owned through ITC Consultants (Cyprus) Ltd created by VTB.
However, in 2015 title was transferred to other Cypriot firms – Cahulia and Aktien Enterprises. Their owners were not disclosed. Everything changed last month when Cyprus opened up the register of beneficiaries after many years of EU pressure. It turned out that Eric Whyte was the owner of Aktien Enterprises
Resort in Tver Region
Another offshore company, Bramsen Trading from the British Virgin Islands, also points to links between Kostin and Whyte. Bramsen was founded in 2010 by Kostin's son Andrey who died the following year as a result of an accident on a quadracycle. Subsequently Whyte became the de facto owner of Bramsen. The transfer of the company, just like the participation of Whyte's other companies in the transfer of title, may demonstrate that "he is a proxy for Kostin", assumes Florian Horcicka, an Austrian anti-money laundering expert.
Bramsen Trading was liquidated in 2017. However, previously it had been a subsidiary of the Cypriot firm Naderbord Trading Limited. As Whyte was indicated in the corporate documents as the full owner of Bramsen Trading, this implies that he must also own
Naderbord (this has been confirmed by experts). And if that is the case, he is thereby linked to the Russian resort and hotel complex Verkhnyaya Volga ("Upper Volga") in Tver Region.
The complex is managed by the Russian company "Hunting Season", whose former co-owner (Cypriot company Egern) declared in corporate documents that it was affiliated to Naderbord.
Egern sold its interest in "Hunting Season" in 2016 for USD 58 million. However, the new owner (another Cypriot firm – Castelor Investments) is also linked to the network of Eric Whyte's companies.
French villa and Moscow offices
Whyte's real estate portfolio includes a property in France which is linked to Kostin. He owns a luxury villa not far from Saint Tropez through the Cypriot company Gedsea Holdings and its French subsidiary. Gedsea acquired the real estate in 2009 from the Swiss businessman Roger Markus Ingold, who was an adviser to Kostin.
The French register shows that in 2010 Whyte also owned real estate on the banks of the River Seine valued at EUR 6.2 million through the Cypriot company Hundbern Paris.
In addition, Whyte is the director of the Russian branch of a Cypriot company owning an old merchant's mansion in Moscow which was converted into elite offices
Related parties
Kostin also owned a flat in the centre of Moscow in the luxury residential complex "Embassy House", accorded this name owing to its proximity to the Ministry of Foreign Affairs of Russia. The value of the flat was appraised at USD 2.8 million. In 2016 Kostin transferred this property to the Cypriot company Eralmor Holdings.
Nobody knew who owned Eralmor. However, Alexey Navalny assumed in an investigation that the company was linked in some way or other to the state banker. Eralmor was founded at the same address and used the same nominee directors as the offshore company of Kostin's girlfriend Asker-Zade.
OCCRP found out that Eralmor was part of an extensive network of offshore companies linked to Eric Whyte's vehicles which own far more valuable assets than just one flat in Embassy House.
Some of these companies were owned by another individual linked to VTB and Kostin: — Natalia Solozhentseva who had in the past worked as director at RCB in Cyprus. Other companies declared in corporate documents that they were "related parties" of Whyte's companies. This term means that the companies have, for example, the same owner or shareholder. As a rule, this is mentioned in their corporate reports.
After studying these reports, OCCRP was able to map the offshore network linking Eric Whyte's vehicles on the British Virgin Islands and approximately another 10 companies registered primarily in Cyprus (including Eralmor which owned Kostin's flat). Each of these companies had been created by the same individual: Cypriot lawyer Christodoulos Vassiliades, whose office is located within walking distance of the Russian Embassy in Cyprus.
Fast food and household goods
The network of companies linked to Whyte or owned by Solozhentseva had interests in major Russian businesses, including the Russian franchises of Burger King and KFC. It is worth noting here that Burger King started doing business in Russia with VTB's support (VTB Capital). In 2018 VTB sold its interest in Russian Burger King for RUB 4.6 billion. VTB Capital was also a major partner of KFC in Russia.

In 2013 and 2014 Landshut, a "related party" of a Whyte company, bought the shares of an investor in the economies of former Soviet republics – CIS Opportunities Fund – for USD 38 million. According to the corporate documents, in January 2014 the fund purchased an interest in the Russian franchise of Burger King for USD 25 million.
Whyte's offshores are also linked to Kresorco Enterprises, which owns the Russian chain of furniture and home goods hypermarkets Hoff. According to corporate reports, in 2011 the Cypriot company Volkeburg, which is linked to Whyte's vehicles, acquired a 20% interest in Kresorco. As of 2020 this interest was valued at USD 62 million.

In 2018 another Cypriot company – IFG Fund AIFLNP V.C.I.C. – a subsidiary of Solozhentseva's vehicles, acquired an interest in the Russian franchise of KFC. And in 2021 – shares in Ozon.ru with a value of USD 49 million and an interest in the Russian retail trade network Fix Price during its IPO.
We were unable to clarify whether Whyte is to this day servicing Kostin's money and other assets or is working simultaneously for himself and different high-net-worth individuals, helping them to manage their assets. Whyte, Kostin and VTB did not respond to questions from OCCRP on real estate, investments and offshore networks.
In March 2021 in his "Congratulations from Cyprus" addressed to former pupils of the Soviet Interdom, Whyte couldn't help offering some advice: He preached: "Life is not easy < …> "You need two things to be successful: work and luck. Luck helps, but you need to work."
This post is also available in:
English (Englisch)
Русский (Russisch)
Français (Französisch)